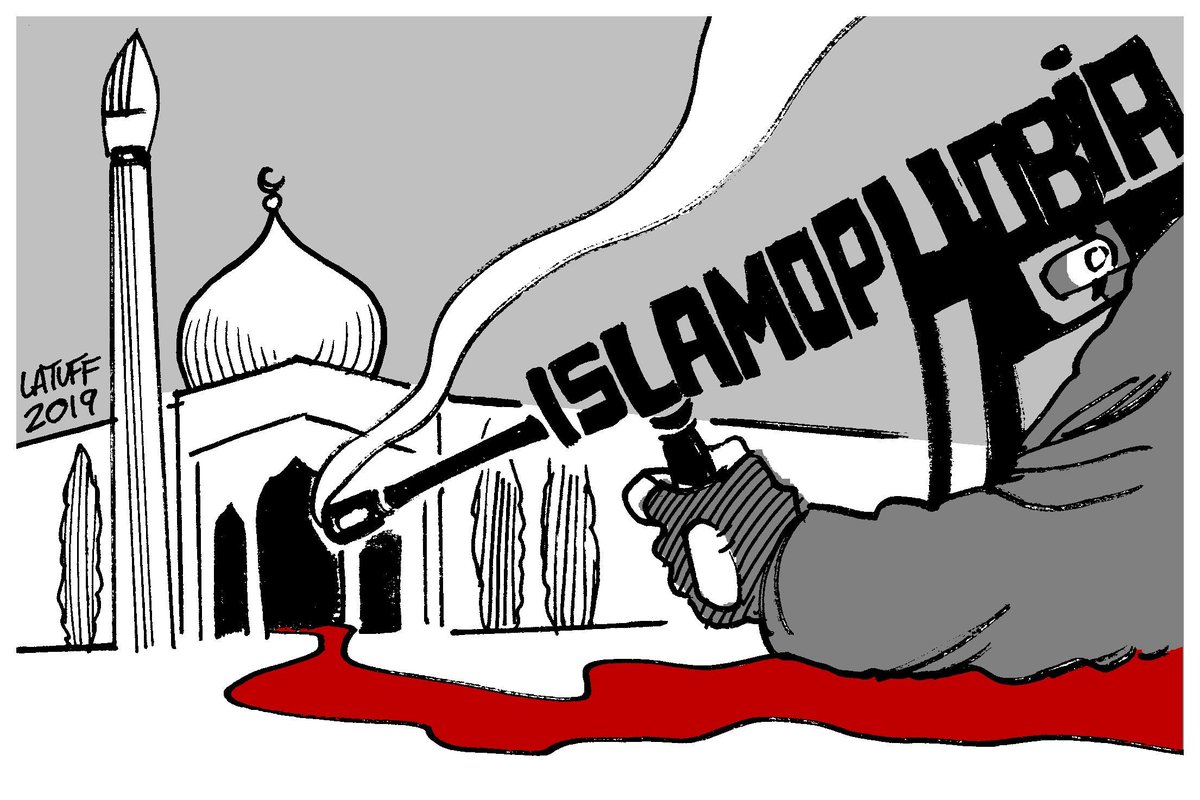 Two men assault woman at Redhill Mosque
In the 30-second long clip, filmed by someone outside the mosque, a man can be seen hitting a woman wearing a headscarf with another man joining in shortly after.
300 allegations of Tory Islamophobia sent to equality watchdog
Muslim Council of Britain's dossier includes claims against Boris Johnson and MPs.
Why Riz Ahmed's short film on Islamophobia is a call to action
It spoke of the silence Muslims are faced with when encountering macro and micro-aggressions alike and of the rising global Islamophobia across the globe.
Trevor Phillips row: Islamophobia is no laughing
The backlash over the Labour Party's suspension of Phillips highlights the different set of rules governing discourse around Muslims in Britain.
The notion of 'Islamophobia' is being used to stifle honest debate
The press regulator's new Islamophobia guidelines will hurt, not help, Muslims.
Islamophobia is deep-rooted in the American psyche
Islamophobia within the United States has been an ever-rising issue since the horrific terrorist attack on Sept. 11, 2001, with the U.S. government passing numerous pieces of legislation that indirectly allowed Muslims-Americans to face an increasing amount of discrimination from various government organizations, such as the Transportation Security Administration (TSA).
In Ill-prepared Mideast, Coronavirus Spreads Conspiracies Too In Iran and Egypt, government incompetence in handling coronavirus cases is met with an increasingly suspicious public.
Gunman opens fire in Paris mosque, wounding one
Attack occurred in religiously and culturally diverse part of capital
Christchurch mosque shootings: Peace symposium dropped due to coronavirus
A peace symposium event scheduled for Friday night in Christchurch on the eve of the mosque shootings anniversary has been dropped due to coronavirus.
Muslims in Memphis open their doors again for annual 'Open Mosque Day' event
Dana Siegel, an English as a Second Language teacher at Crosswind Elementary School, spent her Saturday morning getting to know one of her students' religious community.
Conversation with an Imam: being Muslim in Post-Brexit
UK With the anniversary of the Christchurch Mosque attack approaching, and following Brexit, is the Muslim community in the UK living in fear?
The Muslim Migrant Attack in St. Louis You Heard Nothing About
St. Louis resident Alicia Clarke says she feels as if she has been "failed by the system" and is now "not feeling safe," and she has good reason to feel this way.
Far-right suspects in Germany planned to attack Muslims, refugees
Arrested men set up armed 'terror organisation' with the aim of creating an atmosphere of fear, prosecutors say.
A Muslim congressional candidate was the target of 'deeply hurtful' racist tweets from a constituent. He responded by helping pay his medical debt
As Qasim Rashid, a Democratic candidate for US Congress in Virginia, ran for office, he came under attack online.